Electronic systems development
for individual solutions
From electronics development to the finished product.
Circuit development
Electronic circuits
We develop analog and digital electronic circuits for our customers. 
Whether you have a clear vision or only a vague idea about your product; we will develop a performant and at the same time cost-effective solution for you. Our experience in measurement and test engineering as well as power electronics enables us to log even minor currents and voltages reliably, while at the same time we also have mastered high voltage and power electronics. In addition to our expertise in complex analog and digital circuit designs, we are happy to realize your
aviation projects
according to aviation-specific development processes (e.g. RTCA-DO 254).
Our processes are certified in accordance with EN 9100 / ISO 9001 and the deployment of the latest developer tools guarantee highest quality and adherence to schedules.
After electronics development, we manufacture for you in-house in our electronics production department. We do everything from prototypes to small series to series production, giving you the convenience of a single source.
Request electronic development now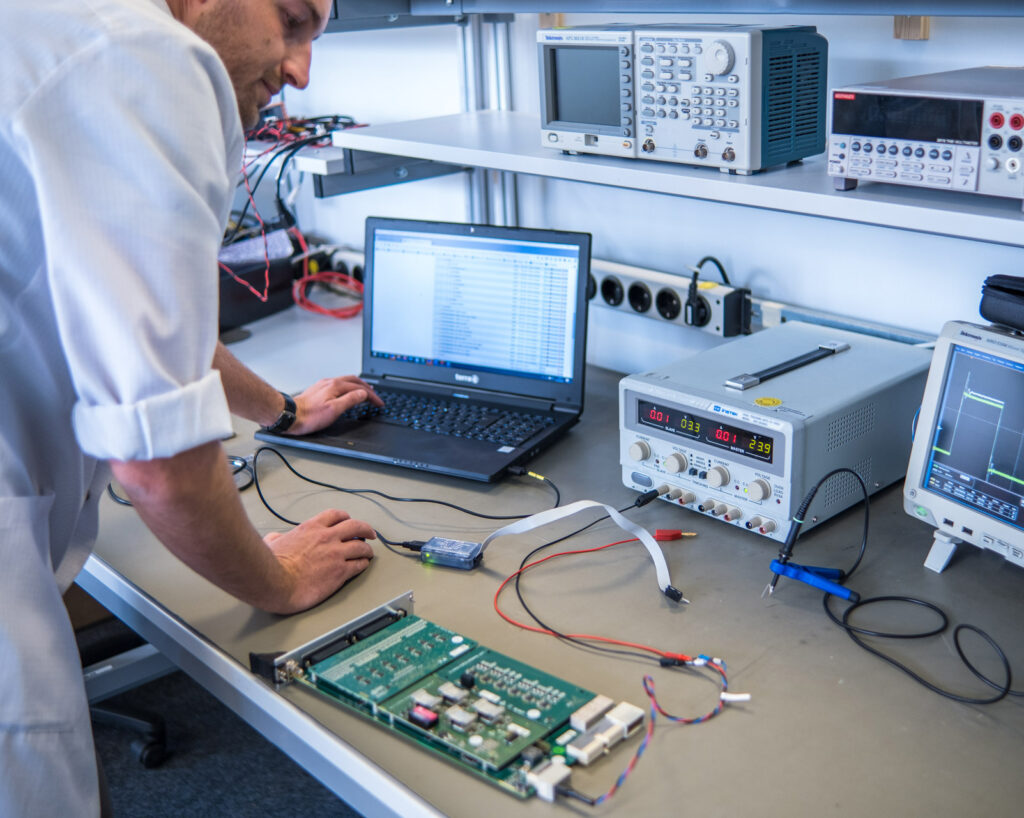 Layout development for your
power electronics
Good layout and experience go hand in hand. The most diverse conditions and effects must be considered, offsets, lengths and positions must be defined, and ground concepts must be implemented in order to achieve the optimal layout.
Rely on our layout expert's experience and on their latest tool environment and contact us!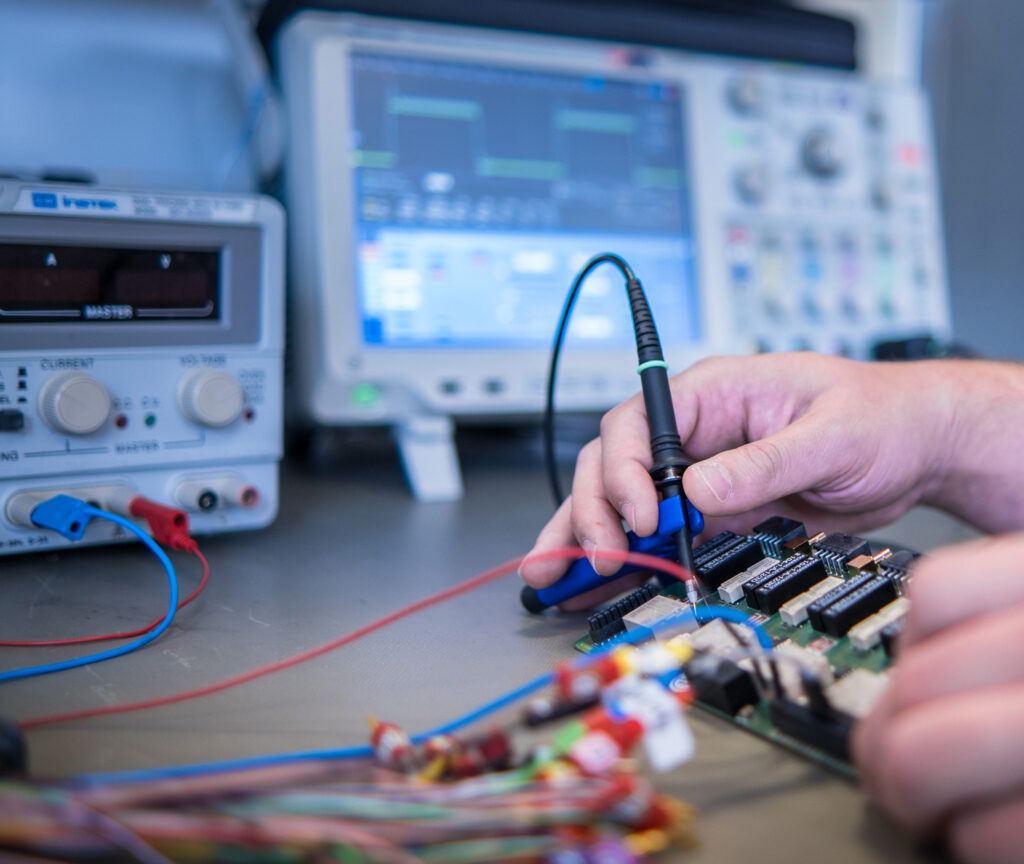 FPGA-Design
Field Programmable Gate Array
FPGA technology is becoming increasingly popular in many applications for signal processing, data transmission and processing as well as protocol implementation, control and regulation.
The reprogrammable circuits enable flexible implementation of complex signal processing with high bandwidth. A compact design is combined with the possibility of implementing parallel structures and providing short implementation times, reliability, and cost efficiency. FPGAs are additionally easily expandable and easy to correct.
We would be glad to support you with the development, integration, verification and testing of your FPGA projects – talk to us!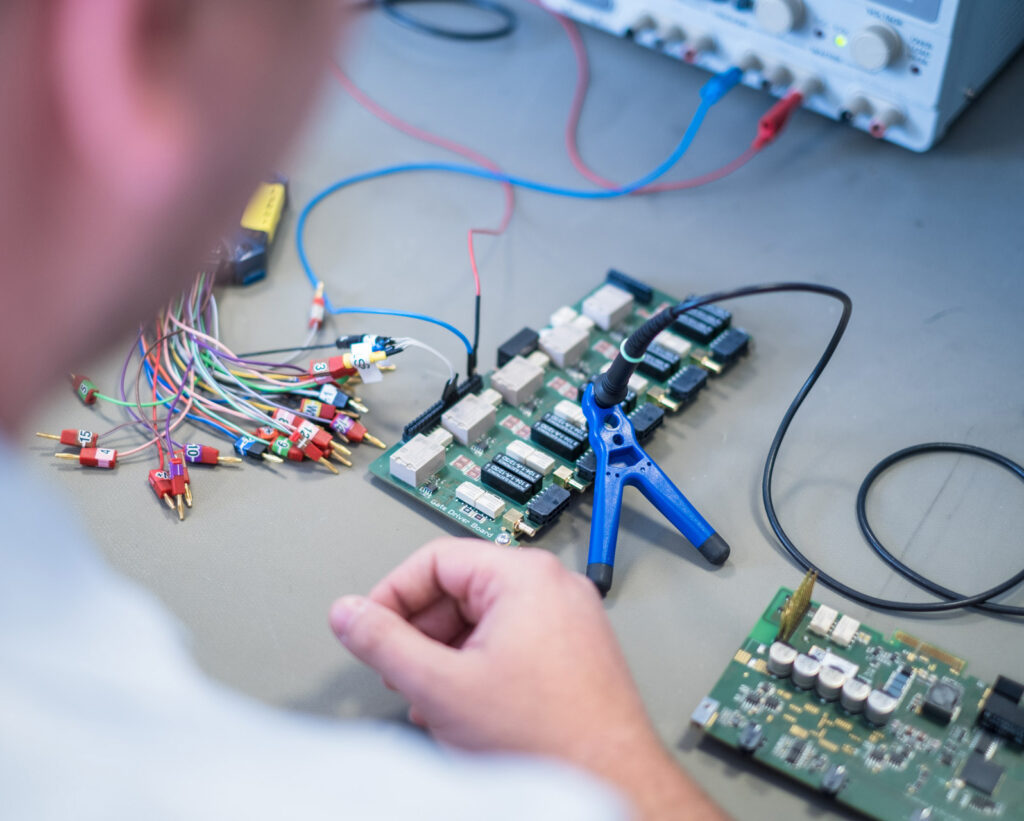 Mechanising
One doesn't just judge a book by its cover – but it gets you interested.
From air tight housings for the aviation industry, to attractive show devices or series produced functional housings: Contact us and we will design your housing in 3D. After completing the design phase, we will also carry out every step required up to the finished product.
For your product to be bound well, we also provide suitable "covers".