Customized testing solutions
Reliability tests for your power semiconductors
At SET, we offer individual test systems that are specifically customized – from static and dynamic all the way to function and production testers for effective and meaningful reliability tests.
Individual test systems for highest customer demands
Test systems by SET are state of the art in both technology and method, but they are also highly flexible. Consequently, you get customized testing solutions that are fully aligned to your individual requirements and you also get the assurance of a recognized quality test.
With SET's longstanding experience, the close contact to our customers, our cooperation with universities and our membership with the European Center for Power Electronics e.V. (ECPE), we contribute to the development of the latest technologies to make sure that our semiconductor test systems fulfil the most up-to-date requirements.
We use our know-how to support you in handling your projects from definition of the system requirements to implementing and commissioning the complete special test system, and we also provide you with a fast and efficient configuration of a test system that is adapted to your ideas and the most diverse of application cases.
Request a test system
Customized testing solutions
We look forward to working with you!
SET faces these challenges by constantly researching and developing new test procedures. We use this expertise in-house for the development and production of our test systems and our electronics. 
As a leading specialist for test systems in semiconductor reliability testing, you can count on SET for customized testing solutions. We will either accompany you through your development phase and prior to starting production or we serve as your production and function tester while your production start is pending.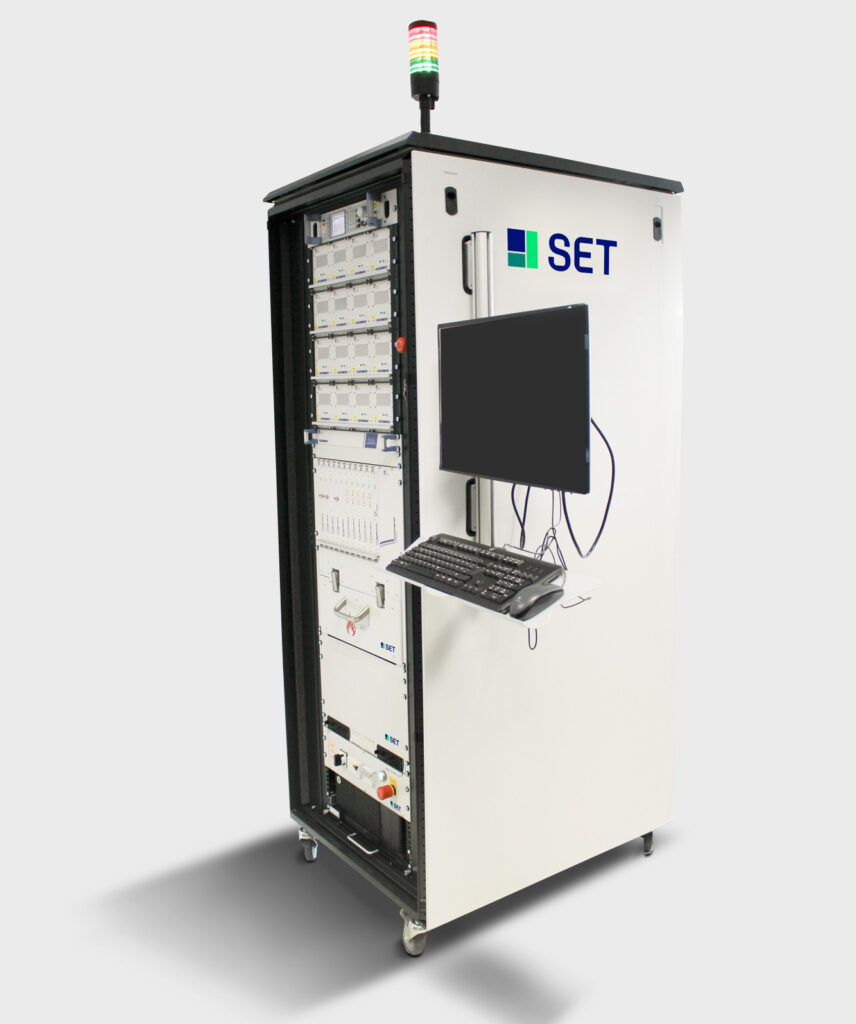 Application example
customized test system "HTOL"
System's specific features
Complete logging of all devices under test during the complete test phase
Exact temperature control of each test object on its semiconductor structure
RF load of the samples possible
High throughput for each system
Fully automated test procedure
Automated test continuation according to characterization
Freely programmable test system based on National Instruments' COTS platform
No test interruptions due to defective DUTs
Integrated safety system
| | |
| --- | --- |
| Devices under test (DUT'S) per system (fully monitored) | 16 |
| DUT supply voltage (VDD) | 1 V – 5.5 V |
| VDD output current per DUT | 10 mA |
| VDD remote sense | |
| VDD and supply current monitoring | |
| VDD adjustable and switchable by software | |
| Flexible FPGA DUT communication | |
| Single DUT junction temperature control | |
| Adjustable test temperature | 50 °C – 175 °C |
| Power dissipation per DUT | 500 mW |
| Ramp up time (25 °C to 175 °C) | < 20 min |
| Ramp down time (175 °C to 50 °C) | < 30 min |
| Virtual Tj measurement | |
| RF Stimuli Frequency | 600 MHz – 2200 MHz |
| RF Stimuli power | 10 W |
REQUEST
Looking for a customized testing solution?
We look forward to facing your technical challenges and to developing a test system according to your ideas
Prefer to have your UUTs tested externally for now? With our in-house service "Testing as a Service", you will get simple and fast tests directly on the expert's premises.