Dynamic H3TRB / AC-HTC / DRB test systems
Innovative reliability tests for SiC and GaN semiconductors
Wide bandgap materials like silicon carbide (SiC) and gallium nitride (GaN) are dominating the future of power electronics. And it needs new and dynamic test procedures for their qualification and development. With test systems by SET, it is possible to conduct these tests automatically and for a high number of DUTs.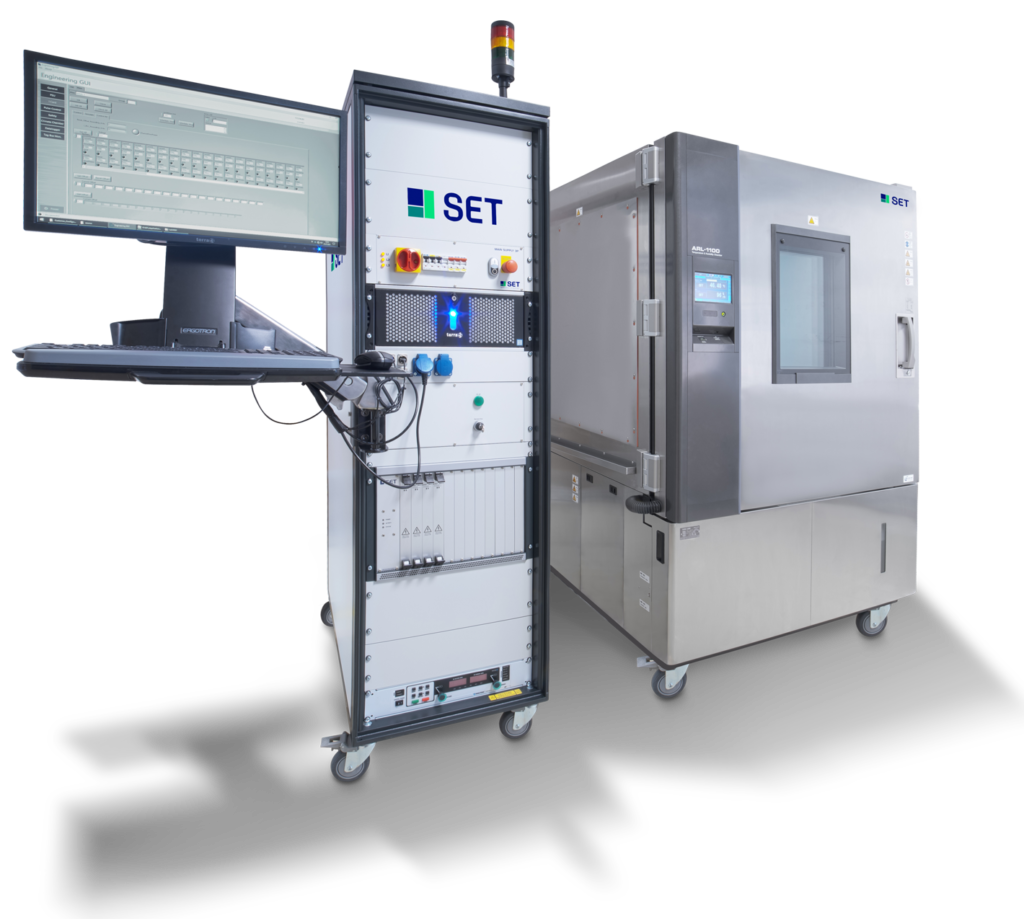 SiC and GaN semiconductors for energy efficient technologies of the future
Increased requirements in terms of energy efficiency and a reduced environmental impact are determining factors for the development in power electronics and pave the way for wide bandgap materials like silicon carbide or gallium nitride. SiC and GaN power semiconductors deliver a much better power density when compared with classic silicon components. Their switching properties are extraordinary and with their high efficiency, they consume less power and can withstand higher temperatures. Consequently, they form a perfect basis for robust and greener future technologies, however, they come with fault mechanisms, which now need to be discovered through newly developed testing procedures. From a material specific perspective, the aim of these testing procedures is to verify the reliable performance in the long run via innovative tests. And this is exactly the approach we at SET take with our semiconductor test systems.
When verifying silicon carbide and gallium nitride semiconductors, a supplementary testing procedure is needed to determine new fault mechanisms in a targeted way. In a setting with a constant temperature and humidity, the DUT is not exposed to a constant voltage, instead the test uses dynamic drain stimuli with high voltage peaks. The voltage shifts lead to fast changes of the magnetic field, which have an impact on corrosion. The procedure accelerates the deterioration of the DUT and possibly also the insulation materials.
In its classic form, the High Humidity, High Temperature Reverse Bias (H3TRB) is a static test, in which the disintegration effects of humidity at an increased temperature on a discreet component or module is tested. In a climate chamber, the DUT is exposed to a temperature of 85°C (185°F) at 85% relative humidity. There is a very high block voltage of 80 to 100 % Umax and the runtime of the test is mostly 1000 h.
The novel AC-HTC test adds additional temperature and humidity cycles to the dynamic stress. Among other things, condensation is also provoked on the test specimen. The test covers reliability requirements, e.g. for applications in the solar industry, which are not specifically tested by other tests.
Download Flyer
Available in:
Technical data
Test system type
Dynamic H3TRB / AC-HTC / DRB test system  
Key parameter

80 – 240 DUT per system
(1 HV-power supply for 80 DUT)
0 V to 1500 V; 4 A for 80 DUT
Self or external stimuli
Stimuli frequencies up to 500khz
In-situ leakage measurement
Disconnect of failed DUTs
Fully automated test and report generation
Why use dynamic measuring with the H3TRB test system?
The much faster switching operations that new wide bandgap technologies achieve in comparison to silicon-based technology also come with new fault mechanisms. Additionally, new standards require new testing procedures. The dynamic versions of the H3TRB / AC-HTC / DRB (dynamic reverse bias) test systems that have been developed by SET to stimulate these fault mechanisms.
Choice of external or self stimulation
Testing in lots of 80 DUTs, up to 3 lots per tester
Supervision of switching operations
In-situ measuring of parameters
Detailed test reports
REQUEST
Testing as a Service
Looking for a specialist to have your DUTs externally tested? With our inhouse "Testing as a Service", we offer you a simple and fast testing directly at the experts on site.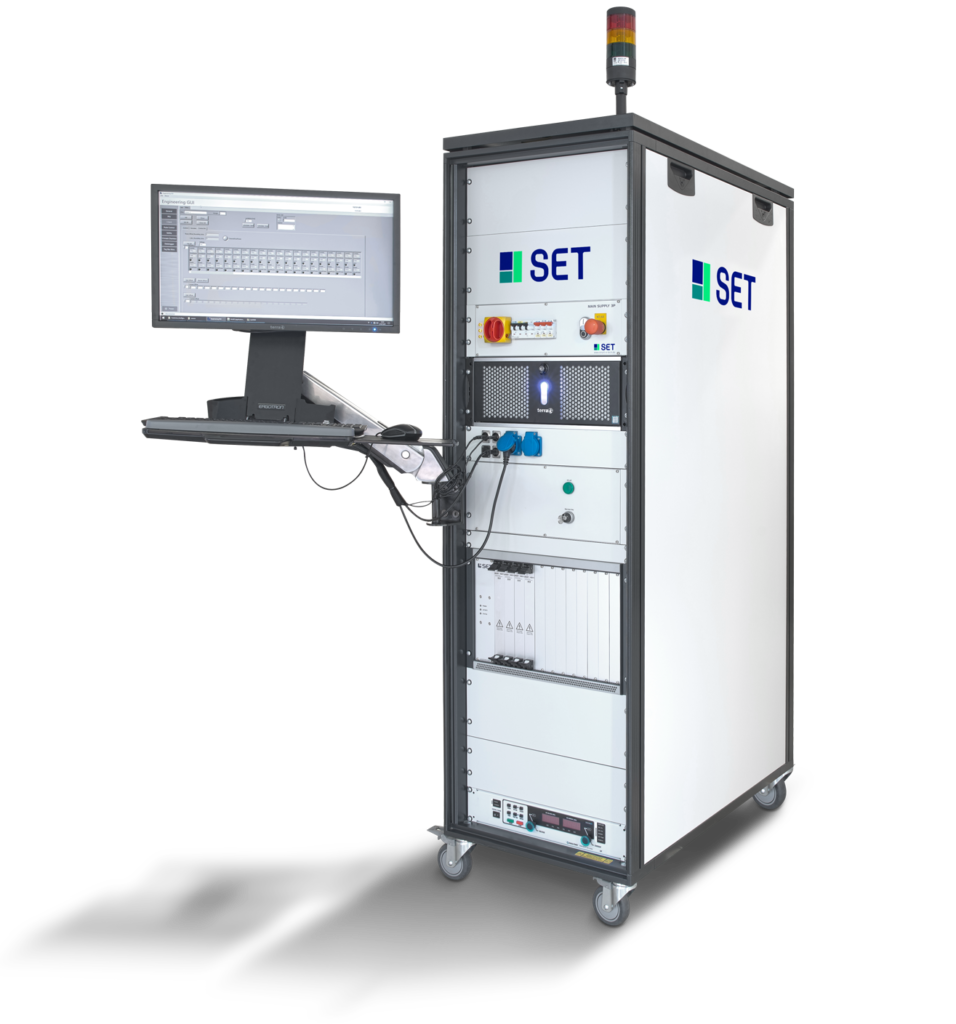 Precise and truly up to date: dynamic H3TRB / AC-HTC / DRB test systems
for wide bandgap semiconductors by SET
SET adds years of experience and a proven track record to the development of innovative reliability tests for the semiconductor industry. Our technologies are truly up to date and future oriented. With our dynamic systems for testing and qualification of SiC and GaN semiconductors, we address the real challenges of the industry and are paving the way to establish relevant standards and guidelines.
As a member of ECPE, SET is a partner in the working group AQG 324. We constantly exchange with manufacturers, resellers, customers, institutes like JEDEC, research departments and academic institutions, to meet all requirements of the semiconductor industry in a targeted and anticipating way. We work on innovative testing and qualification solutions, which can be standardized to form a futureproof basis for new developments. Another important aspect of our commitment to dynamic testing procedures for wide bandgap semiconductors: For years, we have hosted the International Power Semiconductor Reliability Round Table for the power semiconductor industry.
SUPPORT
Do you have questions about the semi­con­ductor test systems or would you like an offer?
We are looking forward to your request. Our support team is always available to answer your questions and will be happy to provide you with a customized offer according to your requirements.