SET in CAN Newsletter 12/2019: HiL test systems in the automotive industry
In December, an article written by our CEO Frank Heidemann was published in the magazine CAN-Newsletter. Title: "HiL test systems in the automotive industry"
Read a short excerpt here. At the end you will find a link to the entire article on CAN-Newsletter.org.
Teaser:
Multi-domain simulations with HIL test systems are standard in aviation. But automotive OEMs (original equipment manufacturers) also benefit from real-time simulations. This requires a powerful and standardized test system.
Advanced driver assistance systems (ADAS), in modern vehicles are becoming increasingly complex and autonomous. The more authority these systems have, the more they need to be considered as highly critical safety applications. This leads to new challenges for the automotive industry, especially in terms of sensor fusion. To ensure reliable qualification, the systems need to be tested and validated according to ISO 26262. Lab tests in simulated hardware in the loop (HIL) real-time scenarios, which have been a standard procedure in aviation for quite some time now, are becoming increasingly important for the automotive industry. The growing complexity of ADAS in turn is resulting in higher technological and quality requirements for test systems.
HiL test systems in the automotive industry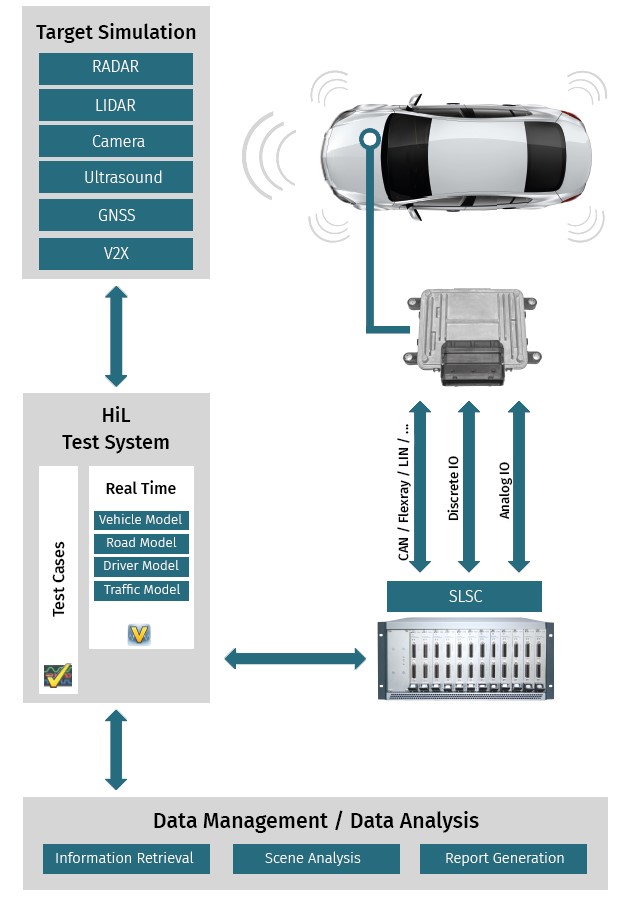 Hardware in the loop test systems enable an ex ante testing of the ADAS qualifications in the lab. Test drives on the road are not only expensive, time-consuming and hardly adaptable. They also entail certain risks. Consequently, there are numerous advantages to have these systems validated in advance using real-time scenarios: The procedure is not time dependent; it reduces test times on the road and in turn also shortens development cycles. As a result, it is more cost-efficient and comes with a minimum risk for damages.
The lab enables a flexible creation of test cases with arbitrary changes to the scenario and a possible introduction of errors. This approach results in the elimination of gross errors and faulty functions right from the start, in order to proceed to real test drives after a successful lab validation. For as long as it is impossible to prove that HIL simulations are fully comparable to reality, the final validation will be done in a real driving situation on the road. Yet, the more these test drives lead to the same results as previously found in the lab, the higher the confidence level in connection with lab tests will be.
[Source: CAN-Newsletter.de]
Read the complete article on website of CAN-Newsletter.de. Furthermore, register now for the CAN-Newsletter!