SET wins Innovation Award
For its technologically new testing platform SET GmbH was rewarded with the Innovation Award 2019/2020 by WiR, the association for the promotion of businesses and innovation in the Ravensburg district. With its platform, the company provides a solution for testing wide-bandgap power semiconductors used in electronic vehicles. Through its new testing procedures, SET helps maintain the quality of these power semiconductors and ultimately prevents that electronic vehicles lose too much of their range over the course of their useful life. The digital award ceremony was held on April 26, 2021.
One central aspect of technological change in the automotive industry is the replacement of the combustion engine with the electric motor. The range of vehicles per charging cycle is one the driving factors to grow acceptance for e-vehicles. New wide-bandgap power semiconductors in these vehicles open tremendous opportunities, but they also come with new challenges for the industry, as research into the reliability of these components is still going on. Repeatedly, there had been undesired faults, which remained undiscovered during testing, because the necessary testing procedures had not yet been developed. With its new testing platform, SET GmbH has now changed this.
watch innovation award video (in German; English version following soon)
Read documentation (in German)
A previously unknown fault in the new wide-bandgap power semiconductors applied in the converters of electric vehicles would otherwise have unexpectedly triggered a reduced range of the vehicles. This would have been an issue with considerable consequences for e-vehicle manufacturers and their customers alike. With its testing platform, SET managed to finally prove this effect, which used to be an assumption only, and thereby contributed to making these vehicles more reliable. "This is an important step towards sustainable e-mobility", underscored district council Harald Sievers when awarding the Innovation Award on Monday. "I am delighted to see that a company from the Ravensburg district is playing such a crucial role for the future of mobility."
Crucial piece of the puzzle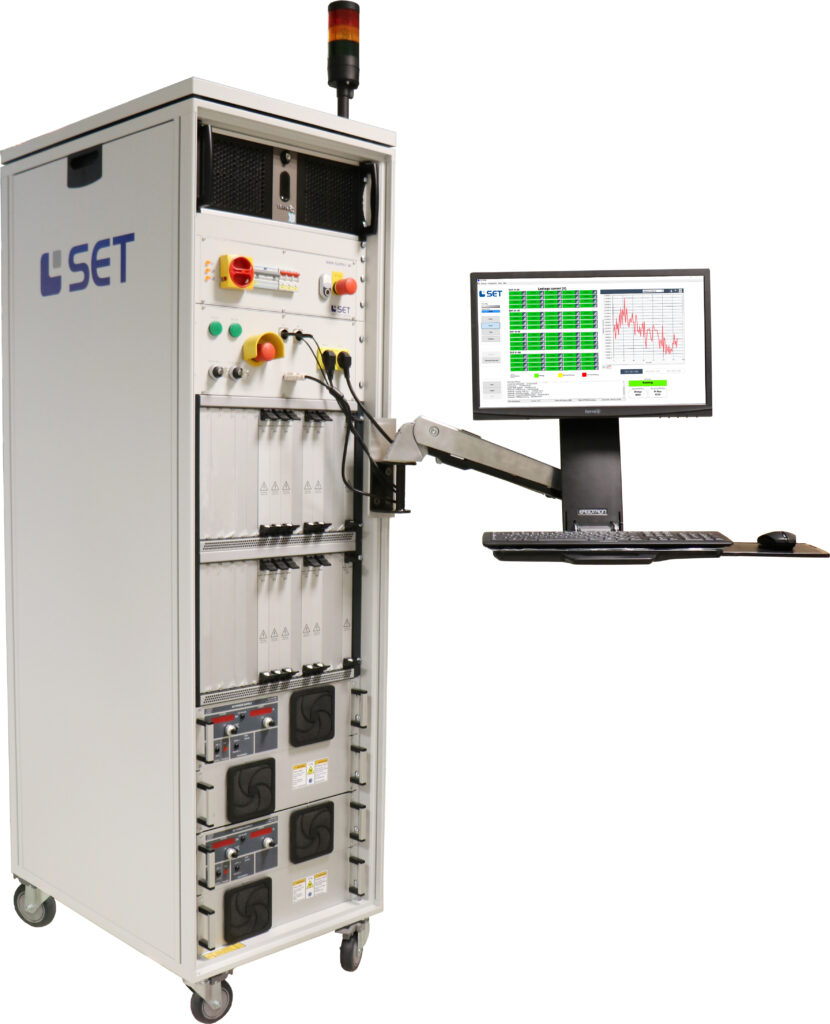 With its totally new testing platform, SET provides a key piece for this market undergoing a sea change. The modular platform enables an easy combination of existing and newly developed testing system technology to quickly adapt to newly formed testing requirements – for now, this is a unique feature in the market. It enables customers to precisely analyze their new products, thus results in an early fault identification and helps achieve faster times-to-market despite constantly shortened development cycles.
SET CEO Frank Heidemann is thrilled with the award and points out what this innovation truly means for sustainability in e-mobility: "With our testing platform, we contribute to further reducing the carbon footprint of e-vehicles Thanks to our testing systems, car manufacturers get to choose suitable components that help them to tremendously reduce their carbon emissions."
With its R&D based at the headquarters in Wangen im Allgäu, SET is a frontrunner in attending to and promoting the adaptation of new testing procedures throughout international industry, and by means of its innovative testing platform, the company contributes to making future electric products and vehicles safer and more reliable.